Internal storage refers to the space available in a device to store system files, applications, and user files. Earbuds, on the other hand, are small Wireless headphones that fit inside the ear against the outer opening of the ear canal.
As technology advances, we now have the option of ear buds with individual storage capacity.
Earbuds with internal storage have numerous advantages, especially when it comes to sports activities.
If you want to listen to music while running, you must wear your smartphone around your arm.
Having Bluetooth earbuds with internal storage and an mp3 player, on the other hand, allows you to leave your smartphone at home, reducing the chances of it falling off and being damaged in the process.
It also eliminates the need to carry your phone everywhere, keeps it safe, and protects it from unwanted falls, particularly when doing workouts or sporting activities such as running and riding sports bicycles.
Earbuds with internal storage and an mp3 player will allow you to listen to your favorite music without having to connect it to any other device or the internet; additionally, you will not need to carry your phone with you because your internal storage will handle your playlist.
As electronics experts, we will investigate various Bluetooth earphones and list the best 6 wireless earbuds with internal storage and mp3 player in the hope that our findings will assist you in selecting the best product. Here's a solution for you.
6 Best Wireless Earbuds With Internal Storage and MP3 Player
1. Samsung Gear IconX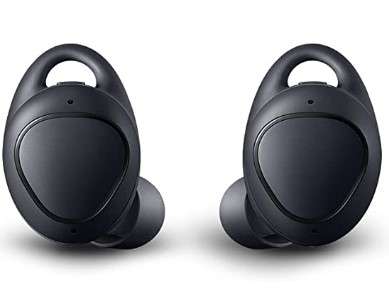 When it comes to quality, Samsung has a good reputation, and the Samsung Gear IconX is no exception. When it comes to ear buds, they are well received in the market.
The ear buds have a 4 Gb internal storage capacity that can easily hold 1,000 mp3 songs, so you don't need to be connected to your phone to enjoy your tunes.
Transferring tracks from your galaxy device to your computer has been made easier via Bluetooth device thanks to samsung.
A USB port is also available for simple phone connection. unloading. If you have music on your computer, you may use the Gear Icon X PC manager to handle it.
For Mac users, transferring music is a little more tricky, but you can connect the earphones straight to your Mac and move the song files from your iTunes folder to the Gear Icon X Folder that displays on your desktop. Despite being a complex procedure, it gets the job done.
The ear buds are water resistant, which is great because it means you don't have to worry about sweat or a sudden shower ruining them.
The ear buds also have a unique way of turning on. There is no power button, and the earbuds have a heart rate measuring system that turns on automatically when a heartbeat is detected.
When it comes to battery life, you get five hours of Bluetooth audio, seven hours of MP3 music, and four hours of talk time.
Product features
Brand Sumsung Electronics
Ear placement In Ear
Connectivity Wireless
Special Features IOS
Pros
4GB of MP3 players Storage
Fits comfortably
Great Sound Quality
Cons
Battery Life is Rather Short

---
2. VZ Sports Mates with Mono Mode
The VZ Sport Mates have made the list of best wireless earphones. Its distinctive v-shaped design, adjustable cords, and soft ear buds make it simple to wear and sit comfortably on and in your ears.
The VZ sports comes with four extra pairs of ear tips one of them being waterproof.
This Bluetooth headphone has a unique feature in that it includes an MP3 player that plays music as well as audiobooks and supports (mp3/,wma/.wav/.flac/.ape).
The technology allows you to listen to your favorite music and audio books directly from your device, without the need for a phone.
The headphones include Bluetooth 4.2 technology, which gives the finest bluetooth audio quality possible while connecting fast and consistently with your smartphone.
Furthermore, the device has a 16 GB TF card that allows the user to carry up to 4,000 high-definition songs, as well as two modes of TF card playback and Bluetooth playback that can be switched at any time.
When you turn on the headphones, they immediately enter TF card plating mode. These allow you to play music directly, or you may connect to the device through Bluetooth and enable Bluetooth play mode on your mobile phone.
If you receive an incoming call while listening to Bluetooth music, your phone will ring through your device, and the music will automatically pause.
You can use the button to answer and hang up a call, and when the call is finished, music will begin playing automatically.
The VZ Sport Mate has an IPX4 splash and sweat proof design that is extremely convenient.
Product features
Brand VZ SPORT MATE
Ear placement In Ear
Connectivity Bluetooth
Media Type Micro SD
Memory storage capacity 16 gb
Pros
Comes fitted with 16 GB TF card
Sweat proof
Battery life of 5 hours
Cons
Some units failed after a while

---
3. Raylin Bluetooth MP3 Headphones With Large Memory
The Raylin Wireless Bluetooth Headphones have an MP3 player and an 8GB memory flash drive built in. It's an excellent pair of earbuds for gym goers and sports fans.
It can upload music and allow you to listen to your favorite music without using your phone during a workout or other activity. Wireless headphones mode allows you to easily connect to any Bluetooth device/phone, listen to music, answer calls, use voice control, and so on.
When running or working out in the gym, the ear buds fit snugly and do not fall out. Raylin wireless earbuds are snug but comfortable to wear. In the event of rain while jogging or running, the ear buds are IPX6 waterproof, allowing you to run in the rain or sweat it out in the gym.
The 240ma large capacity battery ensures that you can easily stream audio for 8 to 10 hours. You can now listen to nonstop music and audio streams.
All major online retail sites have very positive reviews and ratings for this product. Experts also highly recommend the ear buds, making them an excellent choice.
Product features
Brand Raylin
Connectivity wireless
Form factor InEar
Memory storage capacity 8 GB
Noise Control Active Noise Cancellation
Pros
8GB MP3Player
Sweat and water resistant
Up to 10 hours playtime
Cons
Some units are bugged with technical flaws

---
4. Sony NWZ-WS613 MP3 Headphones
Sony NWZWS613 headphones allow you to listen to music while at the gym, on the go, or underwater.
It has an MP3 player and Bluetooth 4.0 for hands-free streaming from your Android or iOS device. Alternatively, up to 4GB of music may be kept on the internal memory of the device.
The audio is produced by a pair of 13.5mm drivers.
drivers and weigh only 1.3 oz (37g). Underwater, the player wraps around your head for comfort, and the headphones can be worn up to 6.5 feet deep.
The earbuds include a built-in rechargeable battery that provides an 8-hour runtime and can be recharged using the provided dock and micro-USB cord.
If your battery runs out and you need to listen to anything quickly, a 3 minute rapid charge may offer up to 60 minutes of listening time.
The Sony NWZWS613 Headphone allows you to customize the EQ via the app, and the MP3 player sounds much better when played through the headphones. Bluetooth audio lacks the volume that onboard MP3 provides.
Product features
Brand Sony
Connectivity Bluetooth
Battery Life 12 hours
Memory storage capacity 4 GB
Component type Battery
Supported standard MP3
Pros
Bluetooth headphones-cum player
Ring-type remote control
Waterproof
Rugged and reliable
Cons
Can't receive phone notification when it's playing on board mp3

---
5. H20 Audio Sonar MP3 Waterproof Earphones
H20 audio has been developing products for swimmers and surfers for over 15 years. H2O Audio Sonar was developed to make swimming with music seamless and easy. A lot of technology was packed into a small package to make the headphone a success.
The headphones are equipped with a built-in MP3 player with 8GB of memory which can hold thousands of songs. When it comes to downloading your favorite music connection with MAC or PC had been made easier
Furthermore SONAR supports Apple iTunes music format (.m4a) and MP3, simply copy and paste or drag & drop any music from your computer onto the SONAR and enjoy your swim.
With the Audio's bone conduction technology clear sound is delivered underwater
SONAR can receive music from your smart watch over the wireless Bluetooth connection. Just pair your smartwatch with SONAR and attach the watch on your swim goggles.
Product features
Brand H20 Audio
Connectivity Wireless
Battery Life 12 hours
Memory storage capacity 4 GB
Model name SONAR underwater Headphones
Supported standard MP3,.M4a
Pros
Comes with a carrying box
Super light
Easy to control the different features
Made using state of the art technology
Ear tips are of different sizes
Cons
Not compatible with some modern devices
Easy to get lost

---
6. Swimbuds mp3 Waterproof Headphones
According to researchers, music has remained a tremendous source of inspiration for sportsmen. Swim buds MP3 headphones are designed specifically for swimmers to use when swimming laps in the pool.
These earbuds are certainly the greatest pick for best waterproof headphones in terms of flexibility and fit.
The earbuds come with ear tips in a variety of designs to accommodate all sorts of ears. It's a traditional circular, fin, tree-shaped headset that performs well in and out of the water.
The fin tips help you to properly lock them within your ear, keeping them from moving about as you swim.
It has an internal storage capacity of 8 GB and can function continuously for 7 hours. Loading your favorite music is as simple as dragging and dropping music files from your computer using a USB cord, and you will always have music with you.
Because the headphones only support MP3 files, you must first convert your music to MP3 before loading it. Controls are simple, and playback features are close to your ear.
Product features
Brand swim buds
Connectivity USB
Component Type playback control
Memory storage capacity 8 GB
Model name Swimbuds MP3
Supported standard MP3,AAC,FLAC
Battery Life 7 hours
Pros
Easy to wear
Good sound Quality
Four different style ear tips
Ample storage
Cons

---
Recommended:-
Are Refurbished Beats Headphones Worth Buying?
FINAL VERDICT
The main goal of this Review is to save you from having to sort through hundreds of wireless ear buds with internal storage and an MP3 player before you find the ones you like.
Hoping that before you buy your headphones you will be fully informed and make a conclusive choice
What wireless ear buds can store music?
Any ear buds that have internal storage has the capacity to store music using either USB drive to drag and drop or copy pest the music from your pc
Do wireless ear buds work with MP3 Player?
Yes, if your MP3 player supports Bluetooth technology, you can listen to it using a wireless Bluetooth headset. To use the headset and MP3 player together, you must first connect the two devices, a process known as pairing.
Can you store music in earbuds?
Once the earbuds are connected, you can stream music directly from a connected device, such as a phone or tablet; however, for the best listening experience, keep the device, apps, and earbuds firmware up to date.
Is it worthwhile to invest in Bluetooth earbuds?
Yes, they are worthwhile, particularly if you are interested in fitness or travel. The absence of cables allows for greater range of motion and connectivity to a variety of devices, and the most recent wireless ear buds offer exceptional range, memory, and battery life.