Back wear-headsets or behind the neck headsets are headsets with headbands that go over the back of the user's neck. The on-ear and over-ear headphones both have a traditional headband and dual ear cups for listening.
The main distinction between on-ear and over-ear headphones is how they fit against your ears. Over-ear headphones have large earpads that fit snugly around your entire ear, whereas on-ear headphones have smaller earpads that sit on top of your ears.
While there are various types of headsets, behind-the-head Bluetooth headphones have a variety of features, making it difficult to choose the most suitable.
In this review, we will look at six of the most popular behind-the-head Bluetooth headphones, with the hope that our findings will assist you in selecting the most suitable product. Here's a solution for you.
6 Best Behind the Head Bluetooth Headphones
1. Kinivo Bth240 Bluetooth Headphones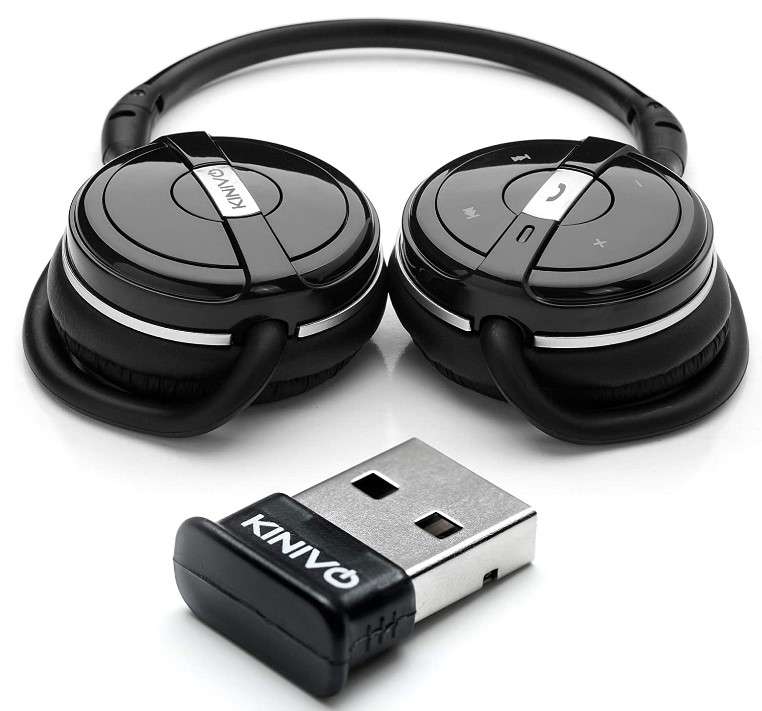 The design allows the headphones to sit comfortably behind your neck, snugly fitting your neck and ears while working out, listening to music, or watching your favorite music.
The sound quality of the BTH240 is quite excellent, as it produces a smooth high range and a well-balanced middle range. The bass is well balanced, the instruments that deliver bass in music are hard, and the audio delivered is of high quality.
The BTH240 is compatible with Bluetooth and A2DP-enabled devices such as iPads, iPhones, iPod touches, Android smartphones and tablets, and so on.
You will enjoy complete wireless audio with BTH240 2.1+EDR Class technology. The headphone has a Bluetooth range of 10 meters, allowing the user to move around and do his work without being interrupted.
This Bluetooth headphone pairs quickly and can store up to five devices, but they cannot all be paired at the same time.
The left ear contains all of the control buttons, as well as two buttons for skipping tracks to the previous or next to one. The other two buttons are for adjusting the volume.
In the center is a multifunction button that serves as a play/pause/call button as well as a power button. There is also an LED light that indicates the status of the pairing.
The built-in microphone for wireless call pickup is also housed in the left ear cup. The headphones can last up to 10 hours of music listening and talk time on a single charge, providing you with enough time to listen to your favorite playlist. When fully charged, the headset takes 2 hours.
Product Features
Brand: Kinivo
Ear placement On Ear
Connectivity Wireless/Wired
Model Name K240 studio
Pros
Easy to pair with other devices
Long life battery
The headphone can pair up to 5 BT Devices
They are affordable
Comes with micro-USB charging port available
Easy and straightforward set
Cons
Bluetooth seems to wear out over time.
---
2. Soundbot SB221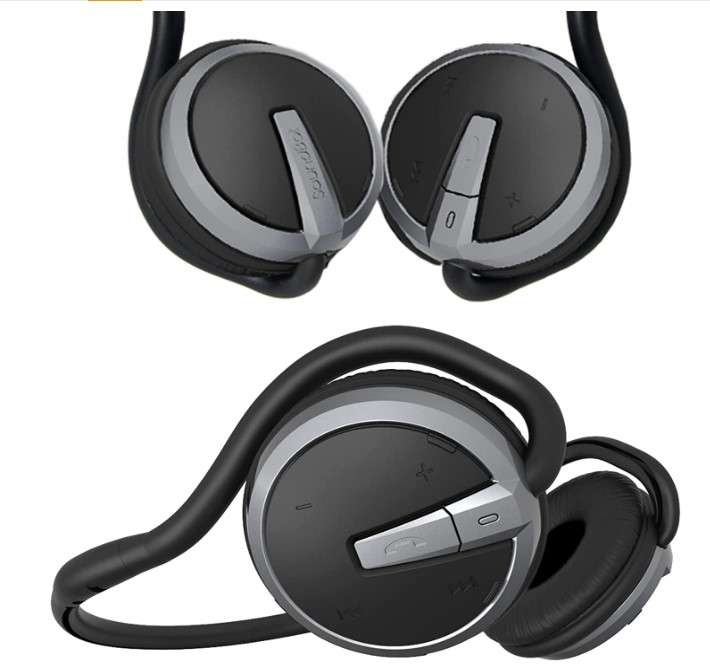 The Soundbot SB221 are behind-the-ear headphones with Bluetooth functionality that come with a slew of features such as stretch and water resistance.
The headphones are lightweight and have a design that fits over the ear and around the neck. They are suitable for both indoor and outdoor use, and they are extremely comfortable to wear.
The headphones feature ANC (active noise cancellation), crystal clear audio technology, and high-performance speakers, as well as drivers that deliver and enhance the HD listening experience.
The headphones have a built-in battery life of more than 20 hours of high-density wireless streaming. The battery is rechargeable lithium-ion, and there is a microphone. On a single charge, the SB221 provides 25 hours of hands-free talking and 20 hours of music playback via Bluetooth. It is important to note that when using these wireless headphones, there is a small effect on battery life
Product Features
Brand Soundbot
Ear placement OverEar
Connectivity Wireless/Wired
Cable feature without cable
Pros
The built-in battery of these headphones is simple to charge because it uses a standard micro-USB connector
Headphone controls are located on the right ear cup
Users can use these headphones to make phone calls thanks to the built-in microphone
Because of their collapsible design, these headphones are extremely portable.
The long battery life of these headphones allows for extended audio listening between charges.
Bluetooth connectivity eliminates the need for wires when using these headphones;
The lightweight design reduces strain on the head and neck when worn;
Produces a clean and balanced sound that is adequate for general listening.
Cons
If you are picky about audio, the audio output of these headphones might not be sufficient for you.
---
3 Itayak Bluetooth 5.0 Neckband Headphones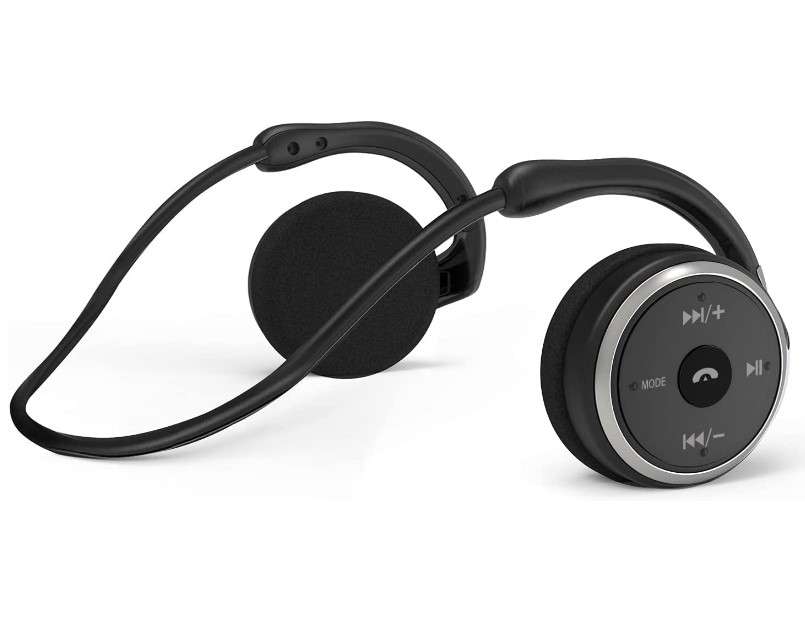 The behind-the-head design allows the headphones to be worn while working or walking, eliminating the worry that they will fall out of your ears, and they perform admirably.
With a weight of about 29 grams and a slim small design, the headphones are a convenient choice for doing sports exercise, and there is no worry that sweat will get inside the headphones and damage them.
The headphones are designed to fit your ears comfortably and come with a powerful built-in rechargeable battery that can support up to 10 hours of music time and 12 hours of talk time, When fully charged, it provides an additional 110 hours of standby time.
The headphones can be used for both indoor and outdoor activities, as well as for self-entertainment.
The Bluetooth headphones have four control buttons that can be used to adjust the volume up and down as well as switch between previous and next music songs.
In order to answer or reject incoming calls, as well as play and pause music, the multifunctional button is used for both functions.
Product Features
Brand

Itayak

Ear placement

InEar

Connectivity

Wireless/Wired

Cable feature without cable
PRO
Have a long-lasting battery life
Lightweight
Sweatproof
Easy to use
CONS
· Non
---
4. SH03 Bluetooth 4.1 Headphones
The SH03 BLUETOOTH 4.1 headphones are designed for behind-the-head use and feature wireless technology for music streaming and hands-free calling.
The headphones feature Bluetooth 4.1 +EDR technology, which allows them to consume less power and connect to other devices, allowing you to listen to music and make calls while using your smartphone.
The headphones, which are fitted with 36mm drivers, deliver high-quality, clear music to your ears. The sound produced is of high quality, with a dynamic base performance. Memory foam ear cups are well cushioned and ensure a perfect fit.
In addition, the headphones have a battery life of up to 25 hours of playtime. With a Bluetooth 4.1 connection and a range of up to 33 feet, you'll have plenty of space to work without being bothered by cables. The headphones are compatible with the iPhone 7 and any other Bluetooth-enabled device.
. The CVC noise cancellation technology allows you to take calls and chat with friends while eliminating microphone noise.
Product features
Brand Besing
Ear placement on Ear
Connectivity Wireless
Cable feature without cable
Model Name SH03
Pros
Long time enjoying
High quality Sound
Noise cancellation Technology
Comfortable fit with sport styles
Included in the box: Besign SH03 Sport Bluetooth Headphones, a USB charging cable, a user manual, and a travel pouch.
Cons
---
5. Cootree Wireless Headphones with Mic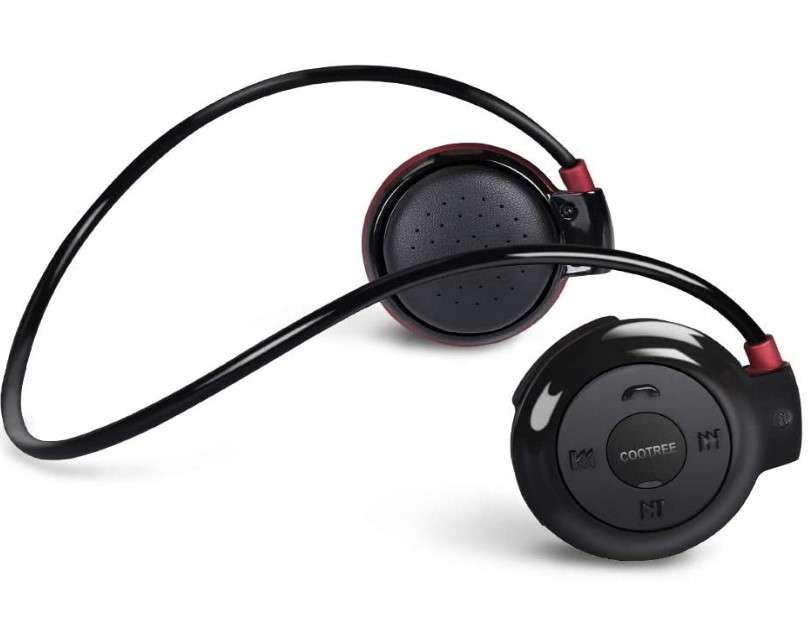 The headphones have good sound quality and a stable signal transmission due to the head design. The headphones are lightweight and portable, allowing you to enjoy sporting activities such as running and walking.
Cootree wireless headphones feature an advanced Bluetooth CSR 8635 Chipset, which allows for faster transmission and lower latency.
The headphones have a wireless range of up to 10m (33 ft) and are worn outside the ear rather than in the ear canal. Headphones' ergonomic design keeps them in place much better than earbuds.
Instead of two in-ear buttons, the headset has four control buttons. The controls on the right allow you to answer calls, adjust the volume, select songs, and play/pause.
The headset is equipped with the technology which allows you to make hand-free calls and listen to music anytime you want and in any environment.
Product features
Brand Smartree
Ear placement on Ear
Connectivity Wireless
Cable feature without cable
Pros
Stay on your head thought-out no matter the activity
Sweatproof
Easy to operate
Fit on the head pretty well without being tight
Cons
Sound quality pretty low
Bluetooth range pretty low
---
6. Sony Lightweight Behind The Neck Stereo Headphones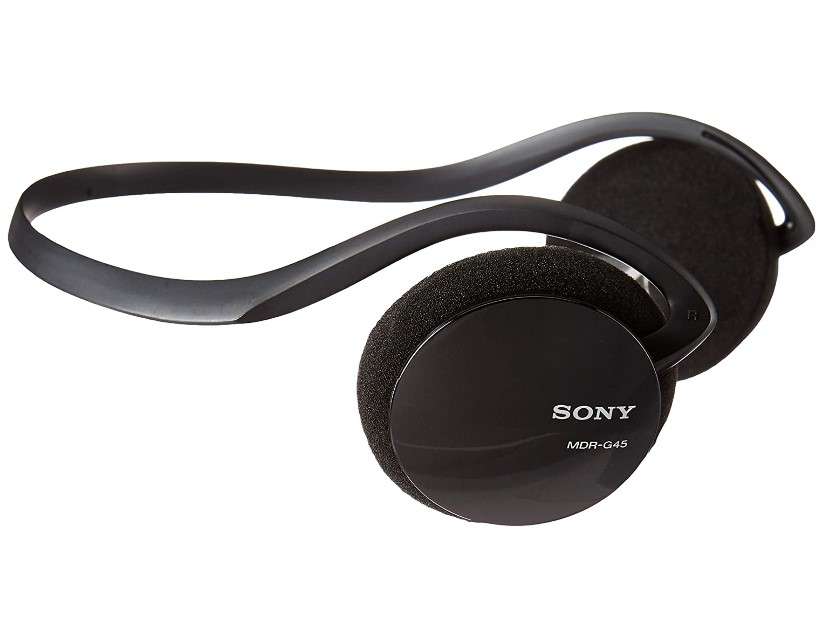 The Sony lightweight are equipped with ear-loop hungers, allowing them to fit perfectly whenever they are used.
The headphones are water-resistant no matter how hard your workout is they is no need to worry about sweat damaging your headphones they are both great for indoor and outdoor activities
The headphones are lightweight and come with 30mm diameter drive unit with are larger than many portable headphones for deeper bass, lower distortion, and wider dynamic range. The headphones weigh less than 2 ounces (55g) without a cord.
When it comes to comfort, the headphones can be worn for longer periods of time without becoming uncomfortable, despite the fact that they have a behind-the-neck headband that does not interfere with your normal wardrobe or hairstyle.
The headphones have a standard 3.5 mm mini plug, which allows them to be compatible with a wide range of devices, including CD players, MP3 players, and other devices that use 3.5 mm jacks.
Product features
Brand Sony
Ear placement on Ear
Connectivity Wired
Headphones jack 3.5mm jack
Pros
Lightweight
Water-resistant
Fit well on the head
Don drop out even while in an intensive workout
Cons
Removable earbuds can fall off and get lost
---
FINAL VERDICT
After reading the editors' reviews of various headphones, you will notice that all of the above assessments are commendable in one way or the other.
However, if you want to get the most out of the above reviews, choose headphones that are reasonably priced and have specific features that will improve your listening experience, such as quality sound, being well-adjustable to the head, and being comfortable to play for extended periods of time.
Recommended Posts
6 Open-Back Headphones Under 100 Dollars For Gaming and Music
---
Which is the best on-ear or over-ear headphones?
On-ear headphones are smaller and lighter than over-ear headphones, making them easier to transport. Because ambient noise is audible, on-ear headphones are safer to use in traffic because they are worn over your ears.On-ear headphones can cause more pain than over-ear headphones because the earpads press against your ears.
What headphones won't hurt my ears?
Headphones with well-padded earcups that fit comfortably over your ears. The volume level output is limited to 85db, which is a safe level for listening to music and will not damage your hearing. The World Health Organization also recommends these levels.
Can Bluetooth headphones cause tinnitus?
Bluetooth headphones which have noise canceling features or earbuds can not be blamed for tinnitus. Listening to loud music with your headphones can result in hearing loss which can lead to tinnitus
Why do headphones hurt my ears?
Listener fatigue occurs when the eardrum works hard to control the volume that is lowering your ear canal. High volume also causes fatigue; if the headphones are worn for an extended period of time, the ears will hurt.
Which headphone is best for long-term use?
Comfortable and well-fitting headphones, headphones that can be worn for an extended period of time without becoming uncomfortable, and headphones with a long battery life. Some of the best wireless headphones are listed below.
· Bose QuietComfort 35 II Wireless Bluetooth Headphones
· BoAT Tockkers 510 Bluetooth on–ear headphones
· JBL T460BT Extra Bass wireless on ear headphone
· Sony WH-1000XM4 Wireless Noise-canceling Headphones
Why do noise-canceling headphones feel weird?
When you first put noise-canceling headphones on, you may feel a pressure-like sensation in your ears.
This is caused by your brain perceiving a lack of low-frequency sound as a pressure difference between your inner and outer ear, similar to how you ascend in an airplane.