When it comes to running, the right equipment can make or break your performance and overall experience. While a good pair of running shoes is essential, there is another piece of equipment that is often overlooked but can greatly improve your workouts: over-the-ear headphones.
Running requires not only physical endurance but also mental stamina. Music can be a powerful motivator and distraction, whether you're training for a marathon or going for a leisurely jog in the park.
However, not all headphones are created equal, and the last thing you want to deal with are tangled cords, earbuds that won't stay in place, or headphones that can't withstand sweat.
In this comprehensive guide, we will delve into the world of running-specific over-the-ear headphones. We'll go over the key factors to consider when selecting the perfect pair, highlight some of the best models available, and give you some pointers on how to care for your headphones so they last a long time.
We'll also look at running playlists and apps to help you get the most out of your workout.
The Ultimate Guide to Running with Over the Ear Headphones
In This Topic We will Cover:-
II. Factors to Consider When Purchasing Running Headphones
Choosing the best over-the-ear headphones for your running adventures necessitates careful consideration of several factors to ensure they meet your specific needs and preferences. Here's a rundown of the key points to remember:
A. Comfort and Fit
Headband design: Consider the adjustability and padding of the headband for a secure and comfortable fit.
Earcup size: Select an earcup size that comfortably fits over your ears.
Weight: Lightweight headphones are ideal for long workouts.
B. Sweat and Water Resistance
IPX rating: Look for an IPX rating to ensure your headphones can withstand sweat and light rain.
Materials: Look for moisture-wicking materials to avoid discomfort during perspiration.
C. Battery Life
Battery capacity: Check the battery life to ensure it will last through your workout.
Rapid charging: For added convenience, some models include rapid charging capabilities.
D. Sound Quality
Consider headphones with balanced sound or tailored bass for your music tastes.
Look for models with noise isolation or noise-cancelling features to eliminate distractions.
E. Connectivity Options
Wireless vs. wired: Consider whether you prefer the freedom of wireless Bluetooth headphones or a wired connection.
Check that the headphones are compatible with your devices, such as smartphones and smartwatches.
F. Noise Cancellation
Active noise cancellation (ANC): Look into headphones with ANC technology for a more immersive running experience.
Ambient sound mode: Some models include ambient sound modes for increased safety when running outside.
G. Price Range
Budget: Create a budget that is in line with your financial constraints.
Value for money: Consider both the features and the durability to find the best value within your budget.
By carefully considering these factors, you can narrow down your options and select over-the-ear headphones that are ideal for your running routines. In the following section, we'll go over specific headphone models that excel in these areas, allowing you to make an informed decision.
III. 4 Best Over-the-Ear Headphones for Running
In the world of running, where focus and motivation are key, having the right over-the-ear headphones can elevate your experience. We've carefully curated a list of the four best over-the-ear headphones for running, taking into account factors like comfort, durability, sound quality, and sweat resistance:
1. Sony WH-1000XM4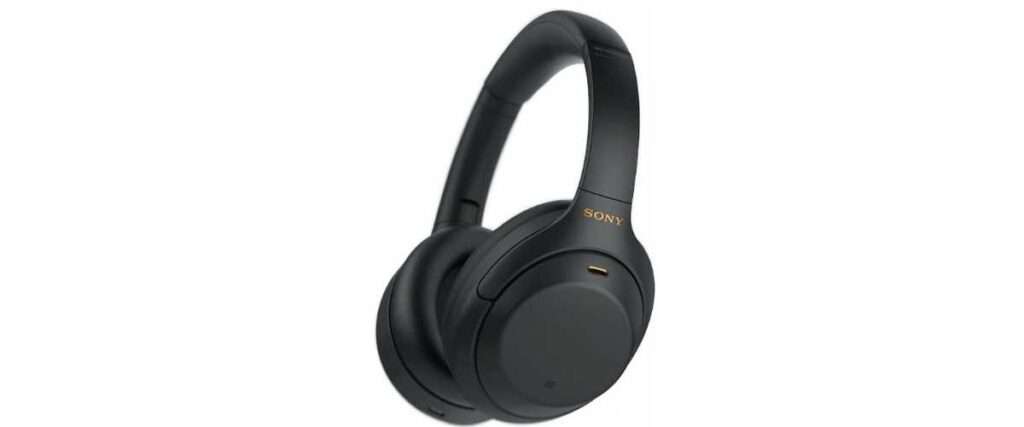 When it comes to running headphones, you want a companion that not only provides excellent sound but also provides comfort, durability, and a slew of features that can improve your workout experience.
The Sony WH-1000XM4 is a headphone model that many runners consider for their workouts due to its outstanding noise-cancelling capabilities and high-quality audio.
In this review, we'll look at the benefits and drawbacks of using the Sony WH-1000XM4 for running, explaining why it might be the best option for you and why you should look into other options.
Features
Comfort and Fit: These headphones provide exceptional comfort for extended use.
Sweat and Water Resistance: While not officially rated for water resistance, they can handle light moisture.
Battery Life: Impressive battery life with up to 30 hours of playback and quick charging capabilities.
Sound Quality: High-resolution audio with adaptive sound control, ensuring a top-notch listening experience.
Connectivity: Bluetooth with multipoint connectivity for switching between devices seamlessly.
Noise Cancellation: Class-leading noise cancellation ensures a distraction-free run.
Price Range: Premium pricing, offering advanced features and sound quality.
Pros
Exceptional Sound Quality: The Sony WH-1000XM4 delivers superb sound quality with clear mids, punchy bass, and crisp highs. The rich audio experience can keep you motivated during your runs.
Noise-Canceling Technology: These headphones are renowned for their industry-leading noise cancellation. While not always a top priority for runners, noise cancellation can be a valuable feature, especially if you run in noisy urban environments.
Comfortable Fit: The headphones are designed for extended wear with plush ear cushions and a lightweight build, ensuring that you stay comfortable throughout your workout.
Long Battery Life: The WH-1000XM4 boasts impressive battery life, offering up to 30 hours of playback on a single charge. This means you can go for several runs without needing to recharge.
Quick Charging: In a hurry? A quick 10-minute charge can give you up to 5 hours of playback, ensuring your headphones are ready when you are.
Bluetooth Connectivity: The headphones have reliable Bluetooth connectivity, making it easy to pair with your smartphone or running device. The multipoint connectivity feature allows you to switch between devices seamlessly.
Customizable Sound: With customizable EQ settings and the Sony Headphones Connect app, you can fine-tune the sound profile to match your musical preferences and running conditions.
Cons
Size and Bulk: The Sony WH-1000XM4 is relatively larger and bulkier compared to some dedicated sports headphones. This might make them less ideal for some runners who prioritize lightweight and compact designs.
Sweat Resistance: While the headphones can handle light moisture, they aren't specifically designed for rigorous sweat resistance. Heavy perspiration might lead to durability issues over time.
Price: These headphones are in the premium price range, which might not be suitable for budget-conscious runners who are looking for more affordable options.
---
2. Bose QuietComfort 45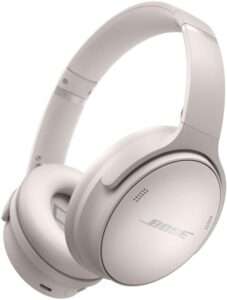 When it comes to running, having the appropriate gear can make a significant difference not only in your performance but also in the enjoyment you get out of the activity overall.
The music you listen to while running can give you that extra push, that surge of energy, or the calming focus you need to take your run to the next level. This happens as the rhythm of your footsteps synchronizes with the rhythm of your breathing.
Finding the ideal pair of headphones for running in this day and age of increasingly sophisticated audio technology can be a game-changer, and the Bose Quiet Comfort 45 headphones have emerged as an exciting option in recent years.
Pros
Unparalleled Noise Cancellation: Bose is renowned for its industry-leading noise-canceling technology, and the QuietComfort 45 doesn't disappoint. This feature is not just for flights and commutes; it can help you focus on your run by minimizing distractions from your surroundings.
Comfortable Fit: The Bose QuietComfort 45 is designed with comfort in mind. The plush ear cushions and lightweight build make these headphones a joy to wear during long runs. They stay securely in place without causing discomfort.
Audio Quality: Bose's sound quality is impressive, providing rich and clear audio. While some running headphones may compromise sound quality for durability, the QuietComfort 45 offers the best of both worlds.
Long Battery Life: These headphones provide up to 24 hours of battery life on a single charge, which is more than enough for most runners. You can enjoy multiple runs on a single charge.
Durability: While not marketed as sports headphones, the QuietComfort 45 is built to last. They can handle sweat and occasional light rain, ensuring they won't give up on you during your workouts.
Cons
Price: Bose products are known for their quality, but they often come with a premium price tag. The QuietComfort 45 is no exception, making them an investment for your running gear.
Weight: While comfortable, the QuietComfort 45 headphones are not the lightest option for running. Some may find the weight a bit noticeable during extended workouts.
Noise Cancellation Limitations: While the noise cancellation is excellent, it's crucial to stay aware of your surroundings when running outdoors. Bose has added an "Aware Mode" to address this, but it may not be as effective as open-ear designs.
Not Ideal for Intense Workouts: These headphones are best suited for moderate-intensity runs. If you're into high-intensity or interval training, you might find the fit less secure during rapid movements.
---
3. TREBLAB Z7 Pro Wireless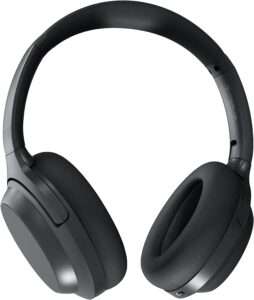 The rhythm of your breath and the pounding of your feet can be a soothing melody in the world of running, a song of determination and perseverance. But what if you could enhance that experience with the perfect soundtrack, music that inspires you and elevates your performance? The TREBLAB Z7 Pro Wireless Headphones come into play here.
Running headphones have evolved to meet the needs of athletes and fitness enthusiasts. Among the numerous options available, the TREBLAB Z7 Pro stands out as a true running companion. These wireless headphones have been designed with comfort, durability, and sound quality in mind to match the intensity and vigor of your runs.
Features:
Comfortable Over-the-Ear Design: The TREBLAB Z7 Pro headphones are designed for long-lasting comfort during your runs. The over-the-ear design provides a secure fit that stays in place even during vigorous workouts.
IPX6 Water-Resistant Rating: With an IPX6 rating, these headphones are highly water-resistant. They can withstand intense sweat and even light rain, ensuring they remain functional in various weather conditions.
Long Battery Life: The Z7 Pro offers an impressive battery life, providing up to 20 hours of continuous playback on a single charge. This means you can enjoy extended running sessions without worrying about recharging.
Enhanced Sound Quality: Equipped with advanced sound drivers, these headphones deliver clear, crisp audio with powerful bass, keeping you motivated and focused during your runs.
Bluetooth 5.0 Connectivity: The latest Bluetooth technology ensures a stable and efficient wireless connection with your device, reducing the chances of signal dropouts during your workouts.
Passive Noise Isolation: While not active noise-canceling, the Z7 Pro's design offers passive noise isolation, helping you stay immersed in your music and block out distractions.
Built-In Microphone: Easily switch from your music to calls with the built-in microphone for hands-free communication during your runs.
Lightweight and Foldable Design: These headphones are lightweight and foldable for convenient storage and portability, making them a great choice for runners on the go.
Pros:
Secure Fit: The over-ear design ensures that these headphones stay in place, even during high-impact activities like running.
Long Battery Life: With up to 20 hours of playback, you won't have to worry about the headphones running out of power during extended workouts.
Water-Resistant: The IPX6 rating makes them resilient to sweat and light rain, which is crucial for active individuals.
Great Sound Quality: The enhanced audio quality with a focus on bass ensures your music keeps you motivated and engaged.
Convenient for Calls: The built-in microphone allows you to take calls without having to remove your headphones, adding to their versatility.
Portability: The foldable design and lightweight build make them easy to carry in your gym bag or pocket when not in use.
Cons:
Lack of Active Noise Cancellation: The Z7 Pro offers passive noise isolation but doesn't include active noise-canceling technology, which may be a drawback if you frequently run in noisy environments.
Slightly Bulky: While they provide a secure fit, the over-ear design can feel a bit bulky for some users, particularly if worn for extended periods.
Limited Color Options: These headphones are available in a limited color selection, so if aesthetics are a priority, you might have fewer choices.

---
These three over-the-ear headphones cater to a range of preferences and budgets, ensuring that you can find the perfect pair to accompany you on your runs, motivating you with your favorite tunes while providing comfort, durability, and excellent sound quality.
IV. How to Care for Your Running Headphones
Running headphones are essential workout companions, and proper care and maintenance is critical to ensure they last and perform optimally. Here's how to keep your running headphones in good condition:
A. Cleaning and Maintenance Suggestions
Clean your headphones on a regular basis with a soft, damp cloth to remove sweat, dirt, and grime. Be especially gentle around sensitive areas such as the ear cushions and controls.
Replacement of Ear Cushions: If your headphones have removable ear cushions, consider replacing them on a regular basis to maintain comfort and hygiene.
Cleaning the Ear Tips: Clean the silicone or foam ear tips of in-ear headphones on a regular basis. To remove earwax and sweat, use warm, soapy water and a soft brush.
Cable Care: If you're using wired headphones, treat the cable with care. To avoid damage, avoid excessive bending or coiling. Cable organizers can be used to keep them neat.
B. Avoiding Excessive Use and Exposure
Take Breaks: Take a break from your headphones and ears during and after your runs. Overuse of headphones can result in discomfort and possible hearing damage.
Volume Control: Maintain a safe level of volume. High-volume listening can harm your hearing over time. Many devices have volume controls.
Properly store: To avoid physical damage, keep your headphones in a protective case when not in use. Avoid exposing them to high temperatures or direct sunlight.
C. Storage and Handling
Moisture Protection: Even if your headphones are sweat-resistant, keep them away from excessive moisture. Keep them in a cool, dry place.
Invest in a specialized carrying case or pouch to protect your headphones when not in use. This protects them from dust and other potential hazards.
Unplug and turn off: If you have wireless headphones, disconnect them from your device and turn them off when not in use to save battery life and prevent accidental activation.
D.Software Upgrades
Update the firmware or software of your headphones on a regular basis, if applicable. These updates may include performance improvements as well as bug fixes.
E. Guarantee and Repairs
Keep track of the warranty information for your headphones. If any problems or malfunctions occur, contact the manufacturer or authorized service centers for repairs or replacements.
You can extend the lifespan of your running headphones by following these maintenance tips, ensuring they remain in excellent condition and continue to improve your running experience for a long time.
Proper care and maintenance will not only save you money, but will also allow you to listen to your favorite music while running with consistent, high-quality sound.
V. Playlists and Apps in Use
Running while listening to music or using apps can significantly improve your workout experience. Here's how to make the ideal running playlist and use running apps to improve your performance:
A. Running Music Options
Tracks with a high tempo and energetic beats will keep your motivation levels high.
Personal Favorites: Include songs that speak to you and lift your spirits.
Mix in different music genres to keep things interesting and avoid boredom.
Inspiring Lyrics: Motivating and inspiring lyrics can provide that extra push during a difficult run.
Create different playlists for different running moods, such as a "Fast-Paced" playlist for sprints and a "Cool-Down" playlist for post-run relaxation.
B. Using Apps to Improve Your Experience
Strava: A popular running app, Strava uses GPS to track your runs, provides detailed statistics, and connects you with a global running community.
Nike Run Club: This app provides guided runs, coaching, and challenges to assist you in setting and meeting your running goals.
MapMyRun: MapMyRun allows you to plan routes, track workouts, and view detailed performance metrics.
Couch to 5K: If you're new to running, this app is great for getting started with a structured training program.
Spotify's running feature can adapt music to your pace, creating a personalized soundtrack for your workout.
RockMyRun: This app provides DJ-curated playlists to match your running tempo and increase motivation.
Runtastic is an all-in-one running app that includes GPS tracking, voice coaching, and a variety of training plans.
Endomondo: Track your runs, analyze your performance, and connect with a running community.
Runkeeper: This app keeps you on track with GPS tracking, personalized training plans, and audio cues.
Garmin Connect: If you own a Garmin device, this app offers a comprehensive platform for tracking and analyzing data.
C. Support for Over-the-Ear Headphones
Check that the running app you choose is compatible with your headphones, especially if you intend to use them wirelessly. The majority of modern headphones are compatible with popular fitness apps.
Set up your headphones to connect to your phone or running device before your workout to avoid interruptions.
You can create an enjoyable and productive running routine by curating the right running playlist and using running apps that suit your preferences and goals.
These tools and tunes can make a significant difference in your overall running experience, whether you prefer guided training sessions or simply want to track your progress.
VI. Tips and Recommendations for Users
The most valuable insights can sometimes be gained from those who have walked (or in this case, run) in your shoes. Here are some user recommendations and tips from experienced runners to help you get the most out of your running headphones and overall experience:
A. The Right Fit Is Everything
"Don't skimp on comfort. Find headphones with adjustable bands and cushioned ear cups for a comfortable fit on long runs."
"Invest in extra ear tips or cushions, as they can wear out over time, affecting the fit and sound quality."
B. Make Your Headphones Sweat-Proof
"Consider a sweatband or headband to prevent sweat from reaching your headphones and potentially damaging them."
"Wipe your headphones after every run to prevent salt buildup from sweat."
C. Battery and Charging Management
"Charge your headphones before each run to ensure they don't die in the middle of your workout." It's a small habit that pays dividends."
"Carry a portable charger if your headphones have a short battery life or you plan to use them throughout the day."
D. Awareness and Safety
"Use open-ear headphones or models with ambient sound modes when running outdoors to stay aware of your surroundings."
"Don't crank up the volume too high – it's essential to stay aware of traffic, other runners, and potential hazards."
E. Cable Administration
"For wired headphones, secure the cable using clips or a cable organizer to prevent tangling during your run."
"Thread the cable under your shirt or wear it over the ear to prevent it from swinging around."
F. Warranty and Customer Service
"Confirm your headphones' warranty and keep your proof of purchase handy." You never know when you'll require it."
"Consider purchasing extended warranty or insurance for high-end headphones, especially if you're a heavy user."
G. Pay Attention to Your Body
"Be aware of your body. Take a break or adjust your headphones if you become uncomfortable."
"If you notice any discomfort or pain in your ears, consult an audiologist – hearing health is crucial."
H. Individualization
"Experiment with different types of ear tips or cushions to find the most comfortable and secure fit for your ears."
"Use EQ settings or apps to tailor the sound to your preferences." A minor change can make a significant difference in your listening experience."
I. Share Your Thoughts
"Join running forums and communities to share your experiences with different headphones and learn from others."
"Consider writing reviews or sharing your headphone preferences to help fellow runners make informed choices."
These suggestions and tips from experienced runners can help you get the most out of your running headphones and ensure a safe, comfortable, and enjoyable workout. Running is about the journey as much as the destination, and the right headphones can be your ideal running companions.
VII. Conclusion
It is important to keep in mind, as you lace up your running shoes and adjust your over-the-ear headphones in preparation for your next adventure, that the combination of technology, music, and your own personal dedication can lead to new accomplishments and breakthroughs in your journey toward a healthier lifestyle.
Therefore, get out there, start the race, get a feel for the rhythm, and allow the music to propel you. Every action brings you one step closer to achieving your objectives if you have the appropriate over-ear headphones and a heart that is filled with determination. Best of luck to you!
Frequently Asked Question
1. Are headphones that go over the ear comfortable to wear while running?
It is possible to use headphones that cover the ears while running; however, it is critical to select models that have been developed especially for use during physical activity. Look for headphones that have a snug and comfortable fit, can withstand perspiration and water, and maintain their stability even when you're moving around.
2. When it comes to selecting headphones for running, should I go with wired or wireless over-ear models?
Your personal preferences will determine whether you go with headphones that are wired or wireless. Although wired headphones may provide superior sound quality, wireless headphones allow for greater mobility than their wired counterparts. Be certain that the headphones you choose are suitable for use with the device you use for running.
3. What is the best battery life for headphones that are used for running?
When looking for wireless headphones for running, a good rule of thumb is to prioritize a battery life of at least six to eight hours on a single charge. Because of this, they are able to complete lengthy runs without needing to be frequently recharged.